What do you get when 5 Tennesseans are deposited at the top of a slope covered in snow drifts about 3+ft high and have to walk downhill about 25 yards to reach their destination?
This is that story.
Back in August when I attended the Fulbright orientation, we were told if we are ever offered the opportunity to go stay in someone's cabin, do so. That cabin life is a national pastime here in Norway and it is an honor to be included. So when my colleague offered us the use of her family's cabin while she and her family spent the holidays in NYC, we dove in. We did think about it for a few minutes … no running water inside, a composting toilet, wood fired stove, potentially frigid temps, BUT with electricity and an adventurous spirit it all seemed quite doable. She and her family have spent Christmases there before, and it was well-insulated for year-round use. We were planning on renting a car at some point and wished to explore the surrounding area some, so we decided a tour that ended in a destination would be the best of both worlds.
It was odd to be on the road, in a car, with only us. Driving in Europe is not a passive experience. Many of the laws place the responsibility of the flow of traffic on the drivers not on signage. For example, Norway doesn't plant stop signs at all their intersections. This puts in place the "give way" rule at intersections where any car on the right has the right-of-way. That means that any car coming from the right can proceed through an intersection at will without fully coming to a stop. Any car that comes to a full stop is signaling that they are yielding to the other car.
The drive was beautiful, we were lucky to have a blue sky day. And aside from Ethan's car sickness, which we had forgotten all about before leaving, we made it intact. We had a GPS in the rental car, but surprisingly, we had cell service all the way there and the new Google Maps app on our iPhones directed us better than the GPS (which continually wanted to take us on obscure side roads that we knew we shouldn't be driving on). Our destination was Nore og Uvdal about 2.5 hours NW of Oslo. The  main roads up  were relatively clear of snow and ice, it was only once we got onto the smaller roads leading to the cabin itself that it got a bit tricky to drive.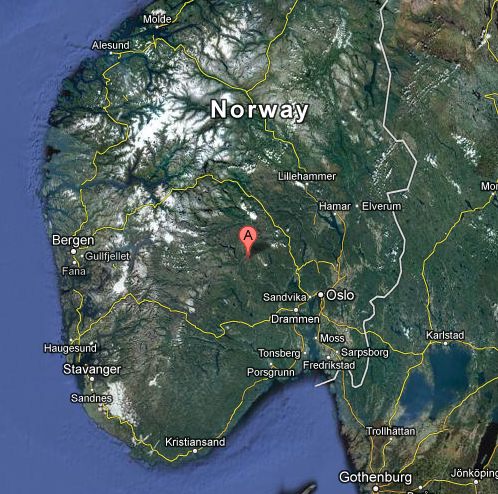 When we finally reached the small side road that the cabin was on, we could not exactly figure out which cabin was the correct one. We knew it was across from two newer cabins so when we saw someone come out of one, we went up and asked. He pointed across the street, down the hill, saying that was the correct cabin and motioned in a general vicinity, "there is a path around there somewhere." When Kurt jokes about digging his way down there he said "I guess so, or you can just use your skis."
Ummmm, yeah, we didn't have any skis. Or a shovel. Cue the Beverly Hillbillies music.
I just knew we had to be on some sort of reality show about putting non-natives into very native-knowing situations. We both looked downhill for a few minutes in silence, and with the prospect of turning around not being an option at this point, Kurt hopped the berm created by the snowplow and stepped in, up to his thigh. Another foot, another sink down, to above his knee (he is 6ft tall). Then he proceeded to leap as best he could to pull his foot out and get down the hill.
With the kids in the warm car, I decided I should probably  join him since I was the one with all the info on where everything was. So in I went, even more pathetic. I sunk down to my thigh and at times almost my waist. I so wish we did have this trek on video. We made it to the bottom, dug out the baby sled, ski poles, and snowshoes and headed back up convinced the kids thought we were lost forever (actually they thought we had opened the cabin, started a fire and had forgotten about them ?!?). We then proceeded to bring all the loads from the car down on the baby sled, with the boys of course all set to walk on their own. By then Kurt had made it up and down enough times that the snow was decently packed and they didn't sink too far down.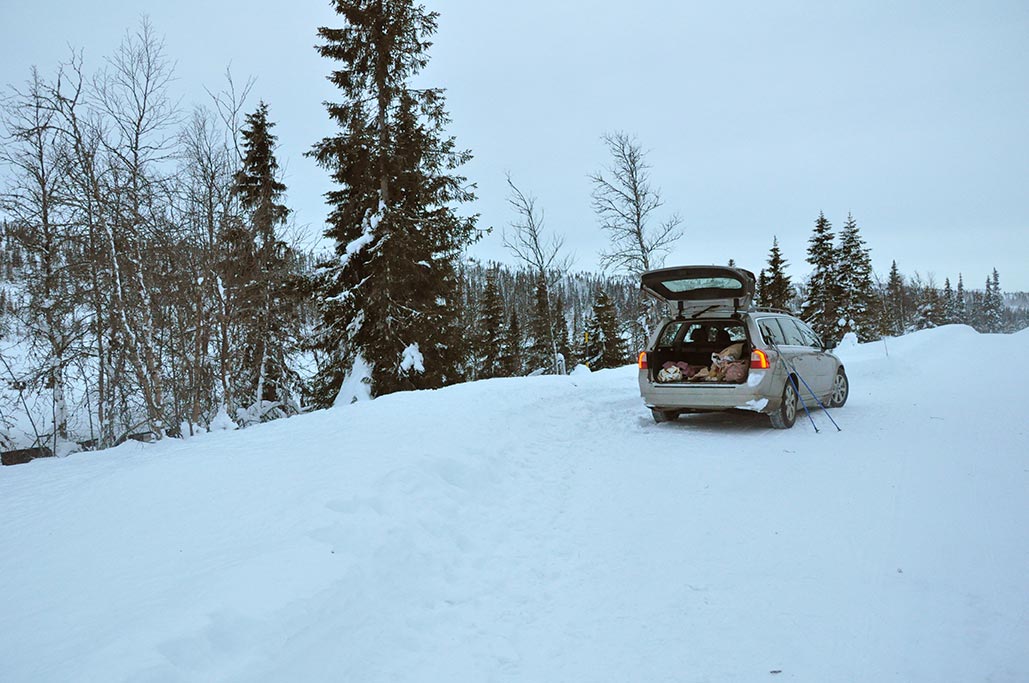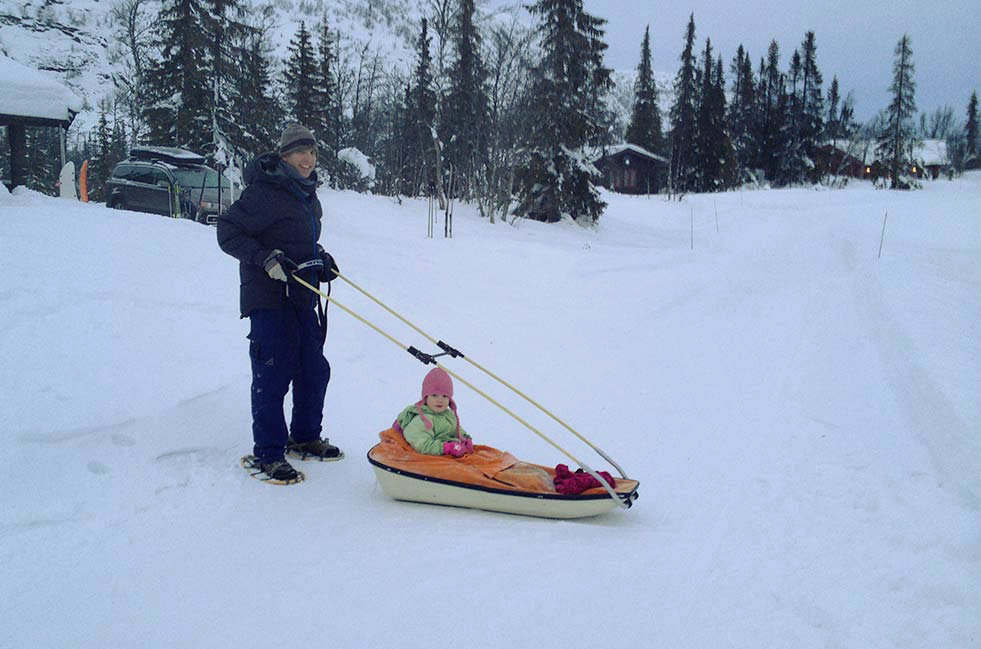 We can only imagine the fun it was for the neighbors to watch all of this unfold.
There they go …
Once inside there was a bit of grumbling from the kids while we worked to get all the systems up to warm the house — which heated up quite nicely and stayed warm throughout. Since that point we had the best time and enjoyed every minute of it! The first night we got about 4-5in. of snow and the next day was overcast but not miserably cold, around 25F. The snow was still rather dry and fluffy and until areas got packed down tightly you could still sink really deep into the snow. The second night the temp rose slightly above freezing and there was some melting of the snow and then refreezing. So the snow was more dense and compacted more easily, making the bobsled run more slick and the walking easier.
Since being here in Norway, each of our kids have shown propensity towards certain ways of playing in the snow:
Ethan likes to construct tracks and sled down them. While here, he and I stomped down and shoveled out our entry path from the day before and he perfected it into his own sled run. He was so particular of how it would work, he even made a path beside it to walk up so you wouldn't ruin the tracks.
Leah likes to construct fantastical stories about snowmen and moose and how she needs to put this here and that there to take care of them. Which typically entails moving snow from one area to another all with logical reason to a three-year-old brain.
And then Reid  is all about lounging. Walking out to where he has no clue how deep it is, and then lying in the snow. Shoveling snow, and then lying in the snow. Crawling in the snow and lying in the snow. Seems each time we turned around he was either forging a path in an area we had asked him not to tread, or lying in the snow. About the only activity he could focus on for more than 10 minutes was building a snow cave which he set about with tenacious digging. The prospect of lying in the cave afterwards being his reward.
The surroundings were stunning. The cabin was warm and cozy. And I took over 200+ photos (I'm a bit obsessed with snow-covered evergreens). We will post several more photos and some video over the coming weeks. For now the Ogden Nash poem that kept playing in my head all weekend …
"Winter Morning Poem"

Winter is the king of showmen
Turning tree stumps into snow men
And houses into birthday cakes
And spreading sugar over lakes
Smooth and clean and frosty white
The world looks good enough to bite
That's the season to be young
Catching snowflakes on your tongue
Snow is snowy when it's snowing
I'm sorry it's slushy when it's going