The opportunity to go and experience Norway has appeared in ways that give Kurt and I pause knowing people are put in front of you at certain times and in certain places for very certain reasons. In order to give proper context as to how this has all come to be, I must go back, way back …. and it's not a short story.
In 2004 I met Eric Ogle, a fellow UT colleague working on a project funded by a City of Knoxville tourism initiative.  There was a heavy technical side to this project that included developing wireless hot-spots all over Knoxville city proper. Then there was the part of the project that ran parallel with my interests, getting people out into the community to experience Knoxville's rich African American history via a digital tour. He was working with a good locally driven content team including Carpetbag Theater and the Beck Cultural Center. We began working with a small cohort of design students to help envision what this tour would entail, however, Eric and I soon realized that simply putting this content online was not enough. We wanted users to be able to to see these sites first hand while listening to the rich stories of its past, reading the historical accounts and viewing the images of then and now. We started to see the value of being able to experience history while physically at a particular site and how powerful connections could be made. Needless to say, we envisioned this way beyond the technical capabilities at the time. Who was going to walk around with their laptop out and open? And to imagine this experience as successful on a PDA was not possible. Upon completion Eric and I met on an off over the next 6 years as the project sat dormant. Repeat, 6 years.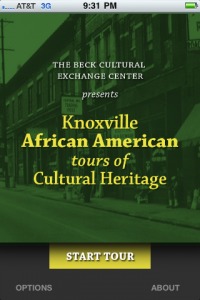 Fast forward to summer 2010 (hello smartphone) and Eric contacts me to say he has a developer willing to help us make this project mobile. So we dusted it off, found that we could easily port most of our ideas into the mobile version, and thanks to David Levi of Double Apps, The Knoxville African American Tours of Cultural Heritage project  launched in the Apple app store in early October 2010. From the description on iTunes:
Choose your own pace as you tour through 13 historic sites of cultural significance in and around downtown Knoxville, Tennessee. Just tap each site on the GPS-enabled tour map to view professionally narrated videos, historic photos and interpretation by noted local historians. Spend some time exploring Knoxville's historic neighborhoods and learn about noteworthy African-Americans and historic moments that shaped Knoxville's growth.
The project received some amount of press, and an award from AIGA Atlanta, however most notable was the invitation from Joe Lambert of the Center for Digital Storytelling to come and present the app at the 4th International Conference on Digital Storytelling in Lillehammer, Norway. Of those of us on the team, I was the most able to do this through generous university funding. The presentation was to focus on how storytelling can be leveraged for economic growth and became an opportunity to work closely with the amazing storyteller Seed Lynn, formerly of Carpetbag Theater  and now of GameChanger Chicago, who had developed the videos in the app many years earlier. Together we crafted the most novel presentation I have ever had the honor of presenting. My biggest regret of that conference was not having someone document our presentation which was part spoken-word, part call and responsem, and backed up by many strong ideas for the future of this form of cultural heritage learning.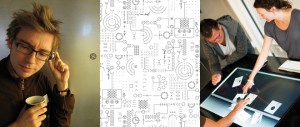 While in Lillehammer I met a professor of Media Studies at the University of Oslo named Knut Lundby (pronounced ka-noot). He was a keynote speaker who holds an active research agenda into the mediatization of culture. I remember mentioning to him that I would, at some point in my career, be interested in a Fulbright. That I was impressed with all that I had seen at the conference so as to consider the Scandinavian region if I were to ever do so. Note the phrase "some point in my career". Knut was complimentary of the presentation that Seed and I gave and later told me about a research unit he had founded at the University of Oslo, and that I should look into them, maybe even for a Fulbright. Again, something to do "later" I thought. Fast forward a few days later, back home in Knoxville, when I received an email from Knut in which he had already reached out to several of his colleagues at the University of Oslo's InterMedia Research Centre on my behalf. Most notably, Palmyre Pierrioux (whom I am now very excited to be working with this upcoming year). The mission of InterMedia:
InterMedia is an interdisciplinary research centre that aims to push the boundaries of design and use of digital environments in communication, interaction and learning.
This initial introduction was soon followed by intense research into the Fulbright application process, Skypes with Palmyre to determine a course of action for this upcoming year (to be covered in a future post), securing a letter of invitation from the University of Oslo, approaching three people whom I hold great respect for to write letters of recommendations for me in the middle of their summer vacations, and the drafts, and more drafts, and yet even more drafts of the application narrative. I received great guidance and mentorship from a Director at the University of Tennessee Office of Research. And he in turn gained more experience in editing. I can easily say that crafting that narrative was one of the more difficult things I have ever had to write. And doing so partly while on vacation in Cape Cod with the family didn't help. But it was submitted in August of 2011, processed, vetted and reviewed three times, and awarded 8 months later.
That concludes the professional aspect of how we have come to go to Norway. However, I would be remiss to not mention the more personal influence that helped me believe that a family of 5 could enter into such an adventure. Beginning back in August of 2010, my oldest childhood friend Traci, and her family of 5, departed on a 5-month adventure around the world through the Semester at Sea program. Traci, who was selected out of hundreds of applicants to assist in the infirmary as a NP, has always been an adventurous spirit — including a two-year stint in the Peace Corps stationed in Guinea-Bissau, West Africa. But to pack up her three kids, ages 8, 5 and 2, for her and her husband to take an extended work leave and all board a ship bound for 10 worldwide destinations was over the top!
Traci and John started a blog entitled, "Doherty By Sea" and I read it religiously (I highly recommend it  – start at the end and read forward to their most recent 3-week voyage on the ship to Central and South America). From the daunting task of packing 5 months of diapers for a toddler (hint: you need 425 diapers and 1080 baby wipes), to the moving interactions they had with Desmond Tutu who happend to be the Scholar-in-residence for that particular semester, to unique experiences they had at every destination; I ate them all up. When they went through days of no connection and couldn't post, I found myself anxious to hear more. I couldn't have been happier that one of my dearest friends was getting to rekindle her adventurous spirit and share it with her children. Living vicariously through them enabled me to think more seriously about embarking on that kind of adventure with my family — minus the living on a big boat part.
So that brings us to today.
Thanks to Trac I have been inspired to seek out adventurous paths on which all five of us can travel together . Thanks to Knut I will engage with people and ideas that are bound to help shape the future of my career. And thanks to Eric, sticking with me and a project for over 6 years, I'm able to share it with all of you.