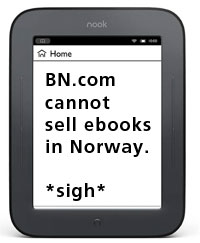 I received a Barnes & Noble Nook Simple Touch e-reader as a gift earlier in the year (thanks Tarver!) and I have to say, all pro-bookstore, pro-printed book issues aside, I really enjoy using it primarily because it is just easier to hold compared to a printed book. I plan on using the Nook extensively while in Norway so I won't have to pack any books back and forth. I want to revel in shedding "stuff" for the next 12 months and shlepping books around doesn't fit that paradigm.
Unfortunately I have discovered a major problem with this strategy.  Currently, Barnes & Noble doesn't have the "rights" to sell books electronically outside the US. In other words, I won't be able to purchase any eBooks directly with the Nook OR even via BN.com once we set foot in Norway. Yes, I believe there are ways to circumvent this issue (IP spoofing or getting someone stateside to purchase via my account) but if at all possible I don't want to go down those paths. The good news is that I can read any eBooks purchased stateside that are already in my "digital library" . So, I am currently trying to determine what I want read for the next 12 months, purchase them now and have them on hand when we arrive.
Trying to determine what I want to have at my disposal for a year is a bit of a challenge. I typically read one book at a time and once finished take time to research what I will tackle next. To help with that task, I have created an account at goodreads.com, a website dedicated to making book recommendations. If anything, going through the process of rating books I have read has been entertaining and the recommendations seem to validate my interest in titles I might have chosen anyway.
So far, this is what I have on my list. I am going to need more so if you have any recommendations, I am open to suggestions!
A Storm of Swords (A Song of Ice and Fire #3) by George R. R. Martin
Really enjoyed 1 and 2 so picking up number 3 is an easy call.
Wherever I Wind Up: My Quest for Truth, Authenticity and the Perfect Knuckleball by R. A. Dickey
One of MLB's hottest pitchers for 2012. He throws the Knuckleball. Oh, and a UT Grad. What's not to like.
Blood Meridian by Cormac McCarthy
I have read pretty much everything by McCarthy except what most consider to be his best. I have kept it at bay, kind of like a fine wine that sits on a shelf. I think it might be time.
Killing Floor (Jack Reacher Series #1) by Lee Child
What can I say, I love genre page turners and I have yet to delve into the Jack Reacher series. Tom Cruise is getting ready to play him on-screen and I am fascinated with watching Hollywood (fail?) translate books to screen.