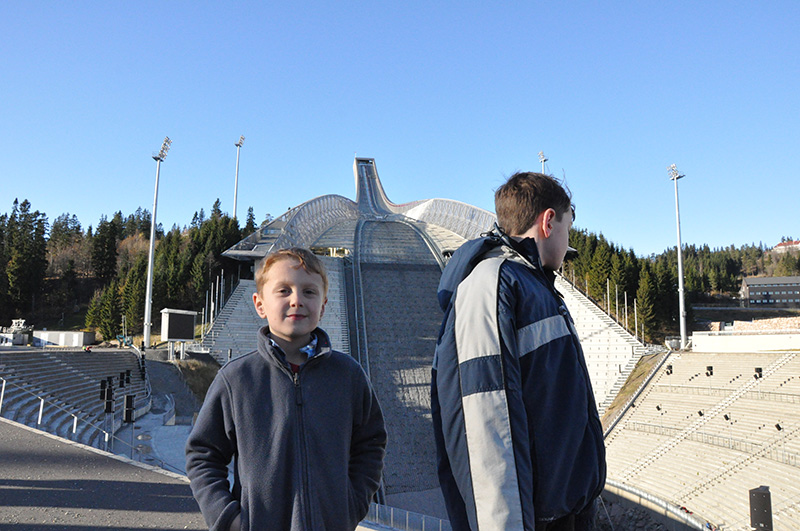 On a recent Saturday, the boys and I were itching to get out of the apartment. We had seen from a distance the giant man made ski jump that sits on a ridge just outside the city in an area called Holmenkollen, it is an impressive structure that I wanted to see up close. I had also had read online that there was a rudimentary rope course and a giant stone troll nearby so this seemed like as good a destination as any in order to get out and about for an afternoon and let the boys get some energy out.
We took the subway out and retraced the route we had taken a few months earlier to Frognerseteren. The Holmenkollen stop is one or two stops before the end of line so in relative terms it is pretty high above the Oslo Fjord. The views were spectacular. Once at the stop we walked uphill, following signs to the ski jump. It didn't take us long to find it, the rope course and the stone troll; both of which were within eyesight of the jump.
The jump was unlike any structure I have seen with it's giant graceful curved ramp that seems to defy gravity as it reaches up and out of a massive sunken bowl in the ground. The bowl is ringed by spectator seating. I am excited to check it out later in the winter when it is covered with snow and hopefully we will get see some jumpers. The World Nordic Cup is in March which features competition in ski jumping, cross-country skiing and nordic combined. I want to look into tickets. I have my fingers crossed they aren't crazy expensive.
Next to the jump is a target range and a Nordic skiing track for biathlon competitions. These are serious "trails" that are paved, divided into two-way lanes and as a wide as a typical neighborhood street back in the states. There were many people out using "roller skis", even some families. The Norwegians take their skiing seriously, it's no wonder that a country so small racks up so many medals in the winter olympics.
The Norwegian Ski Museum is also located here. Admission includes a guided tour with a trip to the top of the jump. I couldn't interest the boys in attempting a climb up to the top. They did love the rope course and I had to drag them away with promises that we would return. No doubt we will.