This past weekend Oslo put on an air show as part of the yearlong celebration of the 100th year anniversary of the nation's military air force. This event downtown was just one of several that are planed throughout the country in 2012. Stamps have been issued to commemorate this occasion.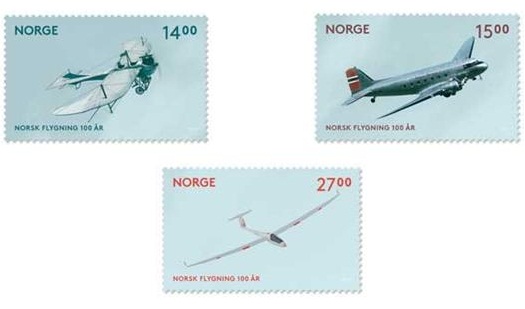 An F-16 got a new paint job and there was a fairly fantastic video produced of this newly painted plane shot out of the back of a C-130 — set to the musical score of a well-known Norwegian trumpeter.
The video:
The event in Oslo went on both days of the weekend and we had every intention of going down on Saturday, however the day got away from us and we didn't make it down. We did get to see, and hear, many of the planes overhead at the soccer field as they banked in and out of the harbor. We looked in the paper that evening and were glad we actually waited until Sunday, check out this crowd:
Here is what they all got to see which must have been amazing to witness:
[vimeo https://vimeo.com/48705337]
So Sunday we packed a lunch and headed down to the harbor. It wasn't nearly as crowded and there weren't any flights overhead, but the kids still really enjoyed it. There were several airplanes on display from various decades of flight. There were displays of military prowess in the form of automatic weapons which surprisingly were not plastic like the ones at the last air show we went to at our local airport back home. These were the real deal that you could pick up and handle. Ethan was taken in by those.
Reid and Leah were both fascinated by the various re-enactments that were staged throughout. Each depicted some sort of activity from a particular time period using real planes as props and actors in period dress. As they were all in Norwegian we certainly missed the nuances of the narrative, but the display was clear enough for us to get an understanding of what was being depicted.
And no trip down to the harbor is complete for us without some time spent looking at the cruise ships. Which is usually followed by many questions including:
when are we going on one?   … no time soon
why doesn't Daddy like them … something about a human stew
how do they stay afloat … great topic for your next science project
and the perennial favorite,  where does all the poop go?  … move along ….