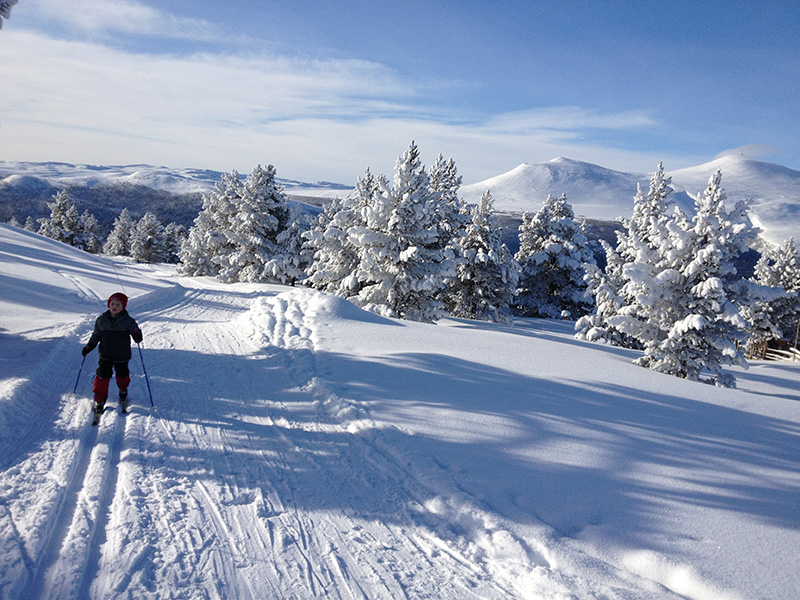 February was a beautiful time here in Norway. Snow has been abundant along with the cold but the sun is steadily growing stronger and the days longer. This all added up to a great time for school kids in Norway to have their week long winter break. Reid and I were fortunate to spend part of this week with our friend Jøran and his son Axel at their cabin near Otta, about 4 hours northwest of Oslo.
The trip allowed Reid and I to try out cross-country skiing at some length, in fact the roads in the immediate vicinity of the cabin are closed to cars during the winter so we had to ski about half a mile from the car just to get to the cabin. I was a little concerned about how Reid might manage but my worries were quickly put to rest as I watched him happily shuffling forward on the skis we borrowed for free from the Skattkammeret, a wonderful service affiliated with a local church that offers sporting equipment to children for free with a refundable deposit.
We arrived at the cabin with little light left in the day. Thankfully Axel made a couple of trips from the car to the cabin, bringing our supplies and bags on a sled they could drag behind them.
…Jøran and Palmyre's cabin didn't disappoint.
We spent the next few days making several cross country ski excursions. None so lengthy as to tax Reid's patience or our skills. The nice thing about cross country is that a person can move at their own pace, fast and aggressive or slow and leisurely which keeps people active in the sport their whole lives.
Reid getting some tips and encouragement from Jøran.
In between the skiing and soaking in the amazing scenery, we all did a fair bit of reading, played in the snow, watched a handful of Pixar movies on DVD, fixed some delicious food (in particular the Joika, a canned Norwegian classic, was notable) and the adults sampled some good single-malt whiskey in the evenings. It was a memorable trip.