Here in Norway Christmas is celebrated on Christmas Eve. The whole city seems to shut down by 5pm and each household commences with a large meal followed by presents and family time. We were graciously invited to share Juleaften with the family of our friends Palmyre and Jøran.
We were to be there at 4 but wound up misunderstanding the transportation schedule. It seems from 4-6 public transport ran every 30 minutes, this was then to be followed by a complete halt to all transportation from 6-8. Lots of cabs on the roads who would drive very slowly by the stops sensing that perhaps we may be interested. And if it hadn't been but a 7-8 minute wait at each of the two stops, and the fact that cabs won't take all of us at once, we probably would have hailed one. We were lucky it was not too cold (maybe 30°F, with light snow) and we were able to catch the beautiful sounds of the church bells tolling throughout the city.
An insight into the regular routine of us trying to walk somewhere, especially if there is any snow anywhere. You can see how lonely the streets are …
Upon arrival I can just say that it felt like we were walking into a picture postcard. Of course the beautiful snow that was just as pristine as could be, was no more once our kids arrived.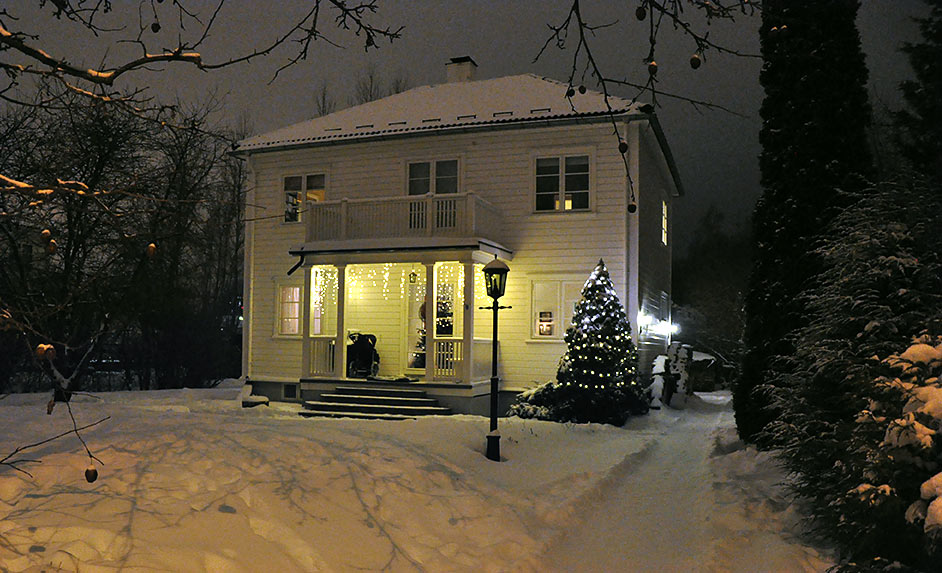 We have heard that the inclusion of the Christmas tree is a tradition picked up from the Germans. Throughout the season we saw several vendors selling trees, most with a still relatively full lot come Christmas Eve. And the ones you do see are not the full, robust, symmetrically shaped ones that we are accustomed to in the States. Rather they feel more authentic to what you would come upon in a forest. I love how the  branches open up to allow you to see the ornaments on the other side. And all of the lights are white, everywhere. We have not see a set of multi-colored lights anywhere over the past month.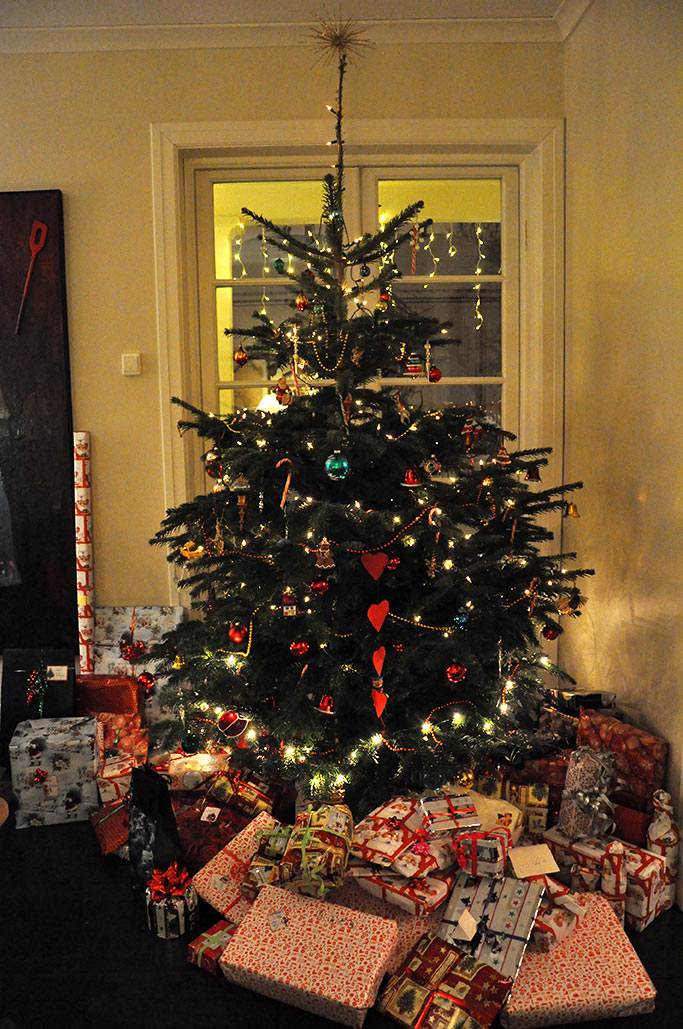 Our Christmas meal was one not be forgotten, a traditional Norwegian fare. Christmas Eve dinner drags out with a first round of the food going around, then a second passing. A break is taken before dessert and coffee. Thus making all the kids at the table more and more squirmy with the excitement of opening gifts afterwards (which for the younger crew, could be brought by Santa himself who knocks on the door and hand delivers his gifts here). And while each family has their own traditions at Christmas, you can bet that there will be some form of pork on the table.
For us that was the Christmas Rib, among other types of sausages. It is a particular cut of meat that is made extra special by the crisping of the rind. This would be the outer fatty layer, one which I typically cut off of anything. But Palmyre said she did that her first Christmas in Norway over 20 years ago and realized quite quickly her mistake. So I tried it and can see why it is such a prized creation, it was delicious and lacked that fatty texture that can so often stop a good meal in its tracks for me. Of course you don't want to eat too much of it, so additional sausages round out the meat selection. Along with this were boiled potatoes and gravy, brussel sprouts with walnuts and maple syrup, and sauerkraut which tasted sweeter than the sour German style we are used to. Beer is the traditional drink with this meal alongside a shot of Akvavit, a Scandinavian liquor flavored by caraway. It is said to help cut the fat from the pork and sipped in close association to drinking the beer.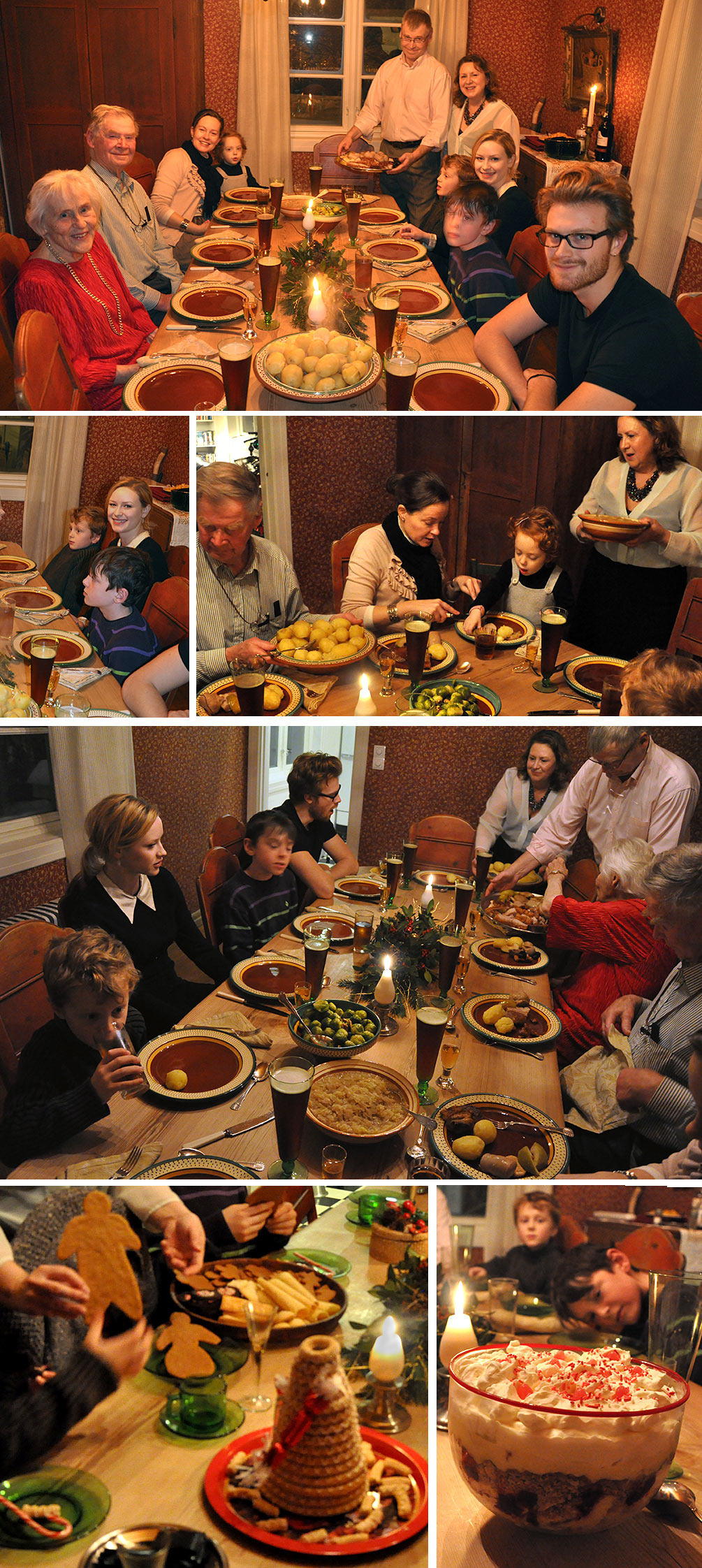 For dessert, Palmyre has her own tradition of making an English truffle, or as Ethan has enjoyed telling everyone, "a dish which contains everything that is good." We were also able to try the Norwegian Kransekake (which translates to wreath cakes). We have seen these everywhere and been quite curious. They consist of several concentric rings stacked upon one another. You take a ring off the bottom and tear it into smaller pieces to share. It looks like it would be light and flaky, but in reality is rather dense and chewy with a heavy almond flavor. Palymyre also had oversize pepperkake, or ginger cookies, and candy canes for the kids as well as a delicious cookie tray. My kids love her! And of course there was port and coffee for the adults. Like I said, a meal we will reminisce about for years to come.
After the meal was complete and the presents opened, everyone wound up in the living room for a movie to round out the evening. The first Toy Story, a welcomed break from all of the Christmas themed movies and shows that have been overwhelming our entertainment time as of late.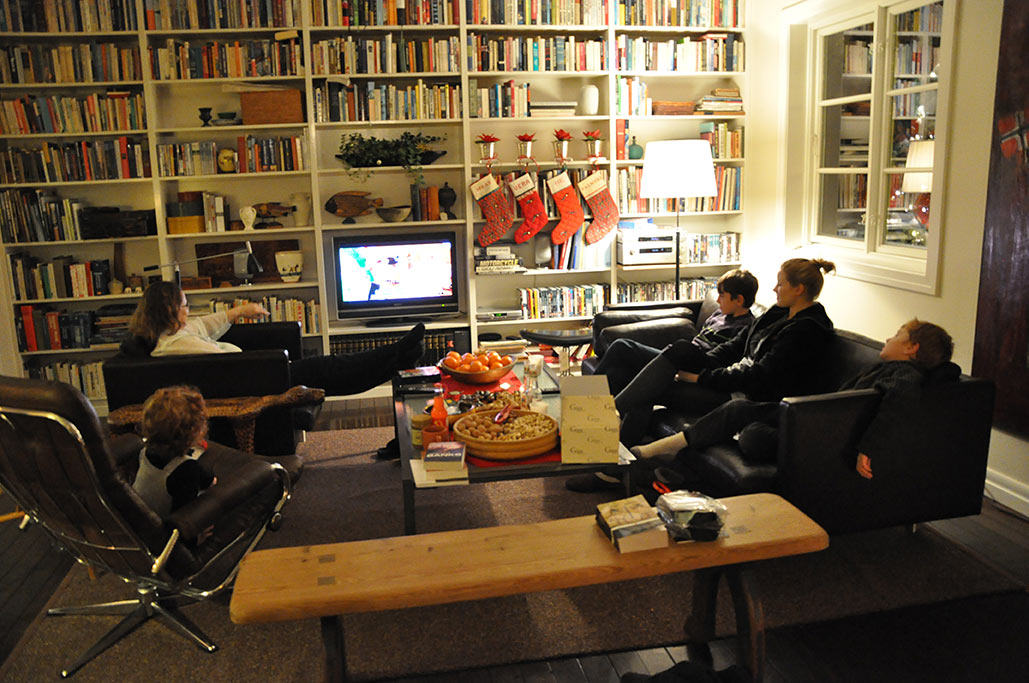 And thus we wrapped things up late in the evening with the kids all having enough energy to bound back home and not fall asleep until midnight. It was such a wonderful evening — we are so very, very lucky to have these guys in our lives!!