For Thanksgiving day in which things are the same daily routine here (minus the birthday of a very special  7-year-old  🙂 while back at home there is turkey, stuffing, and other warm Thanksgiving comfort foods being shared, we thought we we would post about what we have learned about food traditions here in Norway. In particular through various food-related activities I have been able to attend.
When we arrived back in August, the Norwegian Fulbright Foundation put on a very informative orientation. While they presented many of the ins and outs on the practicalities of our stay and hosted a great reception at the Nobel Center along with the US Ambassador, I was most appreciative of the final lunch they prepared for us in which they put forth a large table of what we could expect to find in the Norwegian grocery stores. This was rather helpful as by this point we were all reeling from the sticker shock of initial entry  and being able to try these foods prior to paying for them ourselves was appreciated. Below are close-ups of the descriptions they provided coupled with some shots from our grocery across the street.
Bread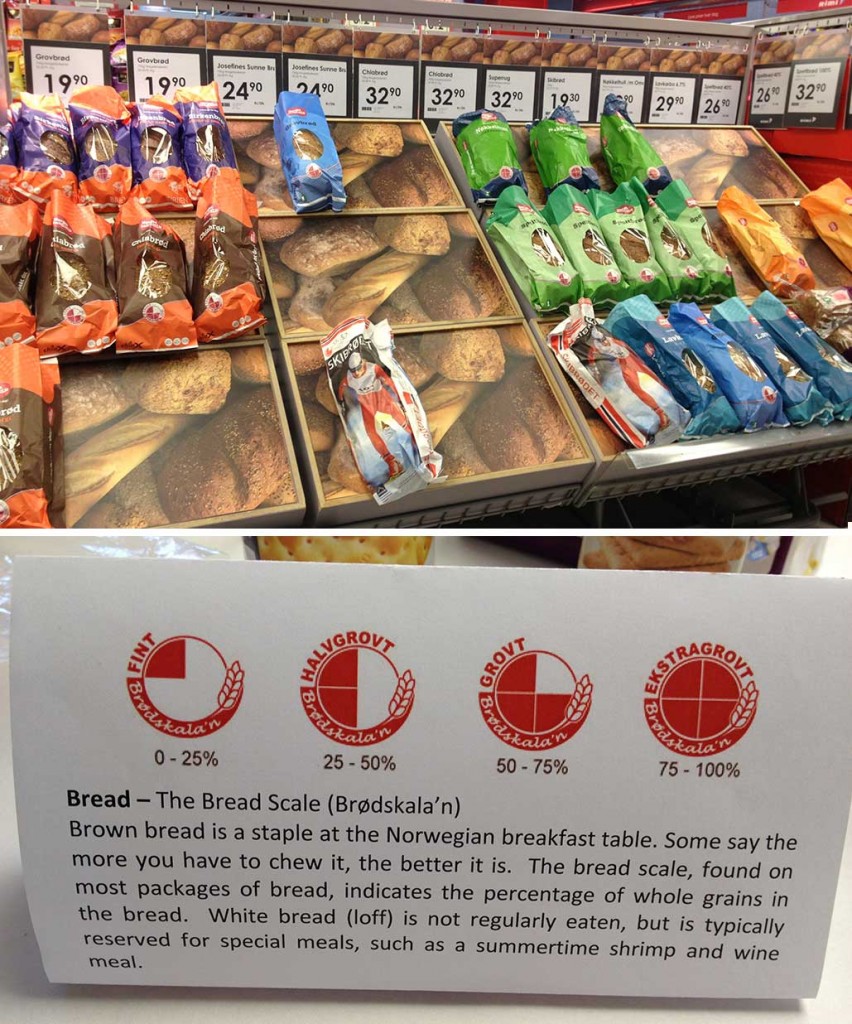 Bread is an area in which we have benefited greatly. As at home, you can find really gourmet options at the local bakery, however here in Norway, you can also find some great bread right in the grocery store. Many of the loaves have been baked within the day and are provided uncut. There is a cutting machine which Ethan wants to demonstrate via a video post at a later date.  We do have to be careful in which loaves we bring home as many of the loaves contain what the boys call "nuts and twigs" which they will eat, although rather begrudgingly. The bread we buy off the grocery shelves at home is processed mush in comparison to what we get here, it will be a difficult transition back home. We have been especially impressed with the simple, yet effective key that is provided on each loaf.
And speaking of keys, there is a symbol on many food items that quickly indicates its health value: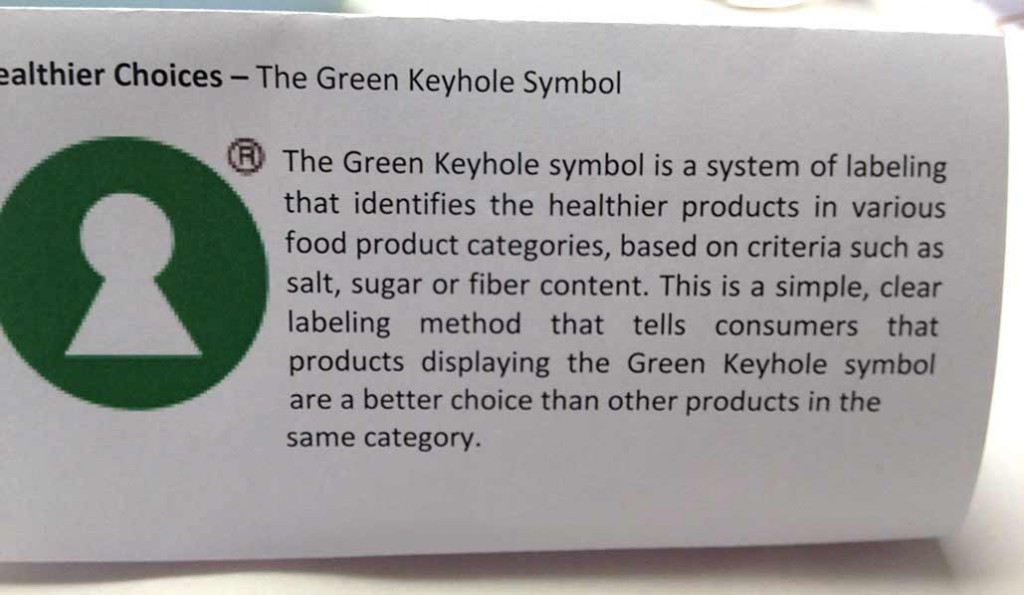 Spreads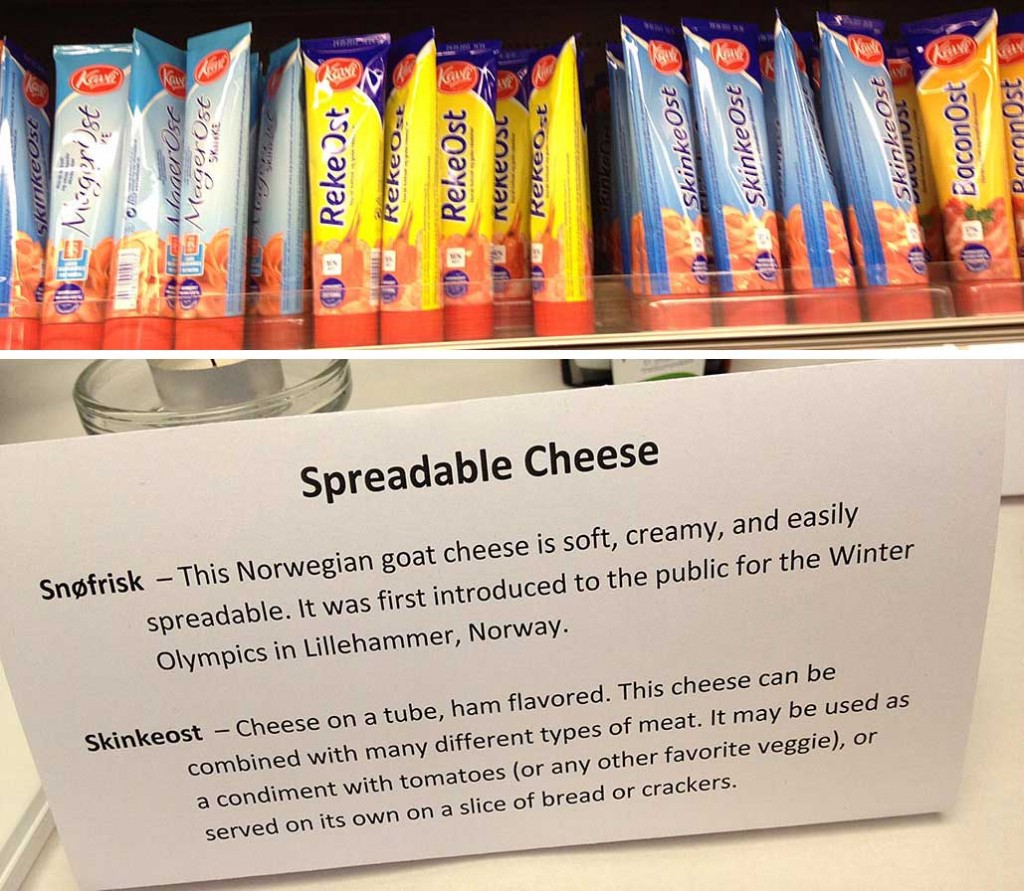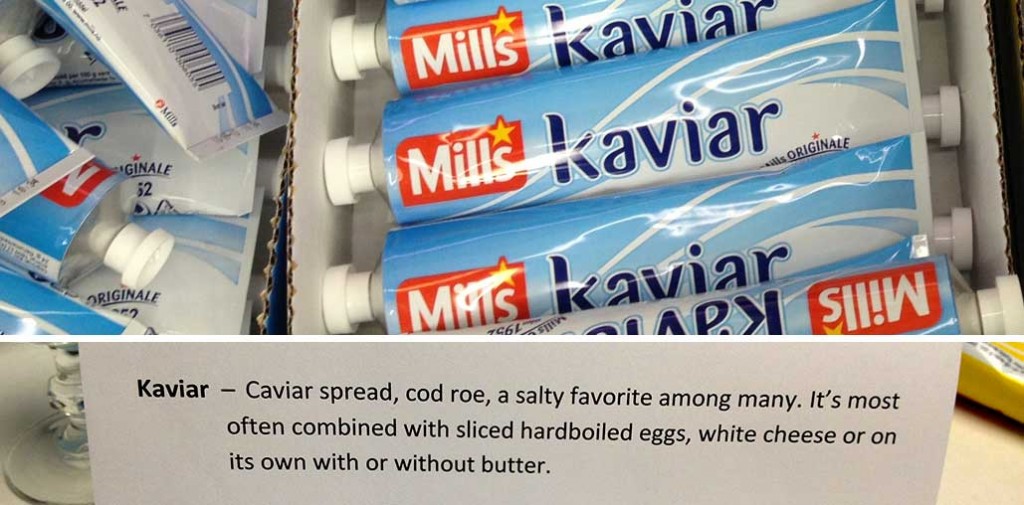 The Norwegians like their spreads. These are present primarily on the lunch meal called a 'matpakke,' a single slice of bread with various spreads and toppings. The ones in the abovemost photo are all meat flavored cheese spreads (ham and cheese, bacon and cheese) and the ones below are shrimp, beet and vegetable spreads (from top to bottom). The photo in between is kaviar which is rather salty.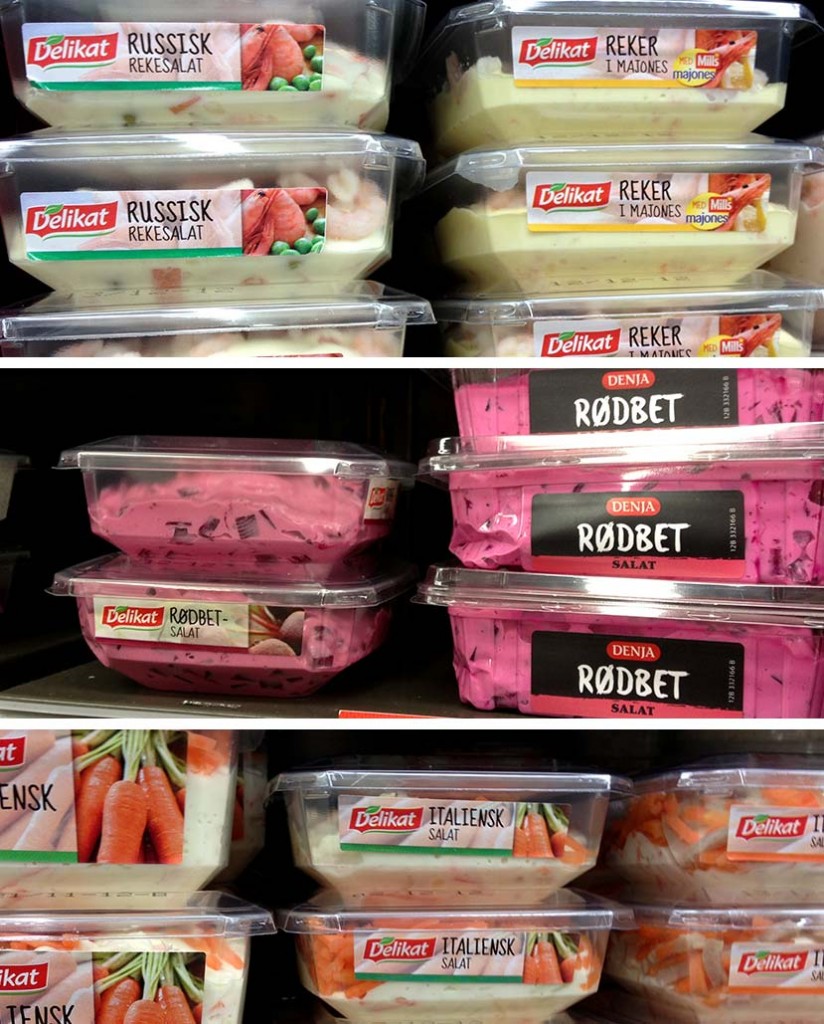 Cheese: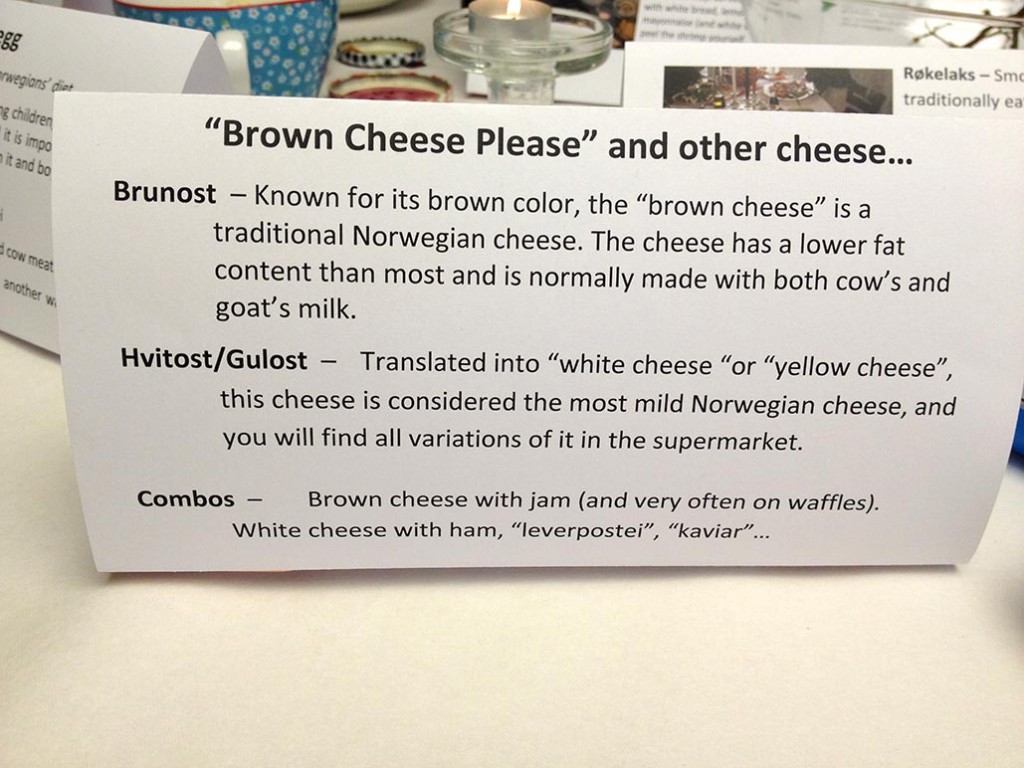 Cheese is also a popular item on the matte pakke. Brown cheese (the brown loaf that is upright in the upper right of the first photo) is definitely an acquired taste. It is also a national treasure as we have seen it stuffed in waffles and carted by many kids on a piece of bread around town. We tend to eat our fair share of the milder white cheese, the Norvegia brand, and have found it serving many roles from pizza, to tacos, to sandwiches. Cheese variety in terms of cheddar, jack and monterey seems to be non-existent here.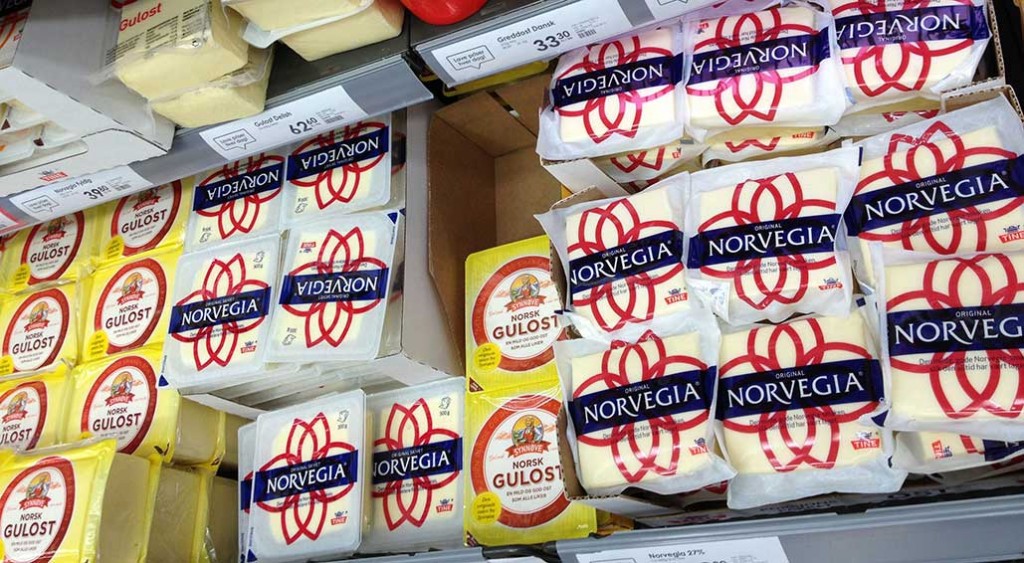 Meat + Fish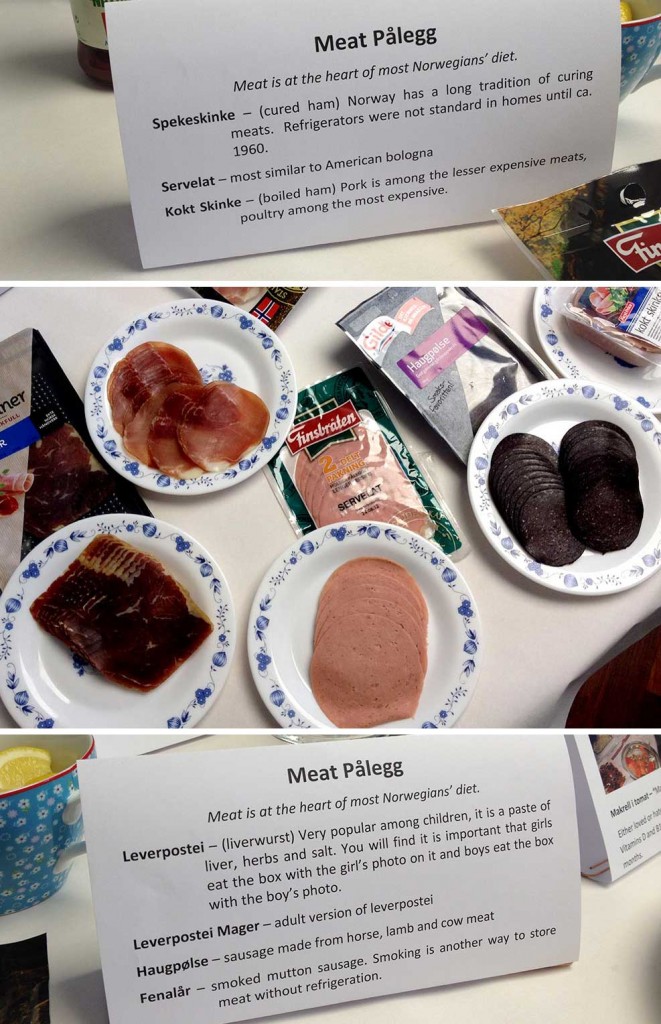 We will go into the fact that we can buy fresh salmon filets for a cheaper price than chicken breasts at a later date. Deli meats are popular here, again for the matpakke. They are sliced fairly thin and sold in packages — we have yet to see a deli where you can get them cut to an agreeable thickness. This house usually sticks with the 'skinke' or ham. Salami is another favorite. We avoid the 'haigpølse', aka the purple meat, at all costs!
And Kurt is the only one to have found the Makrell in tomato sauce appealing.
 Pizza + Hot Dogs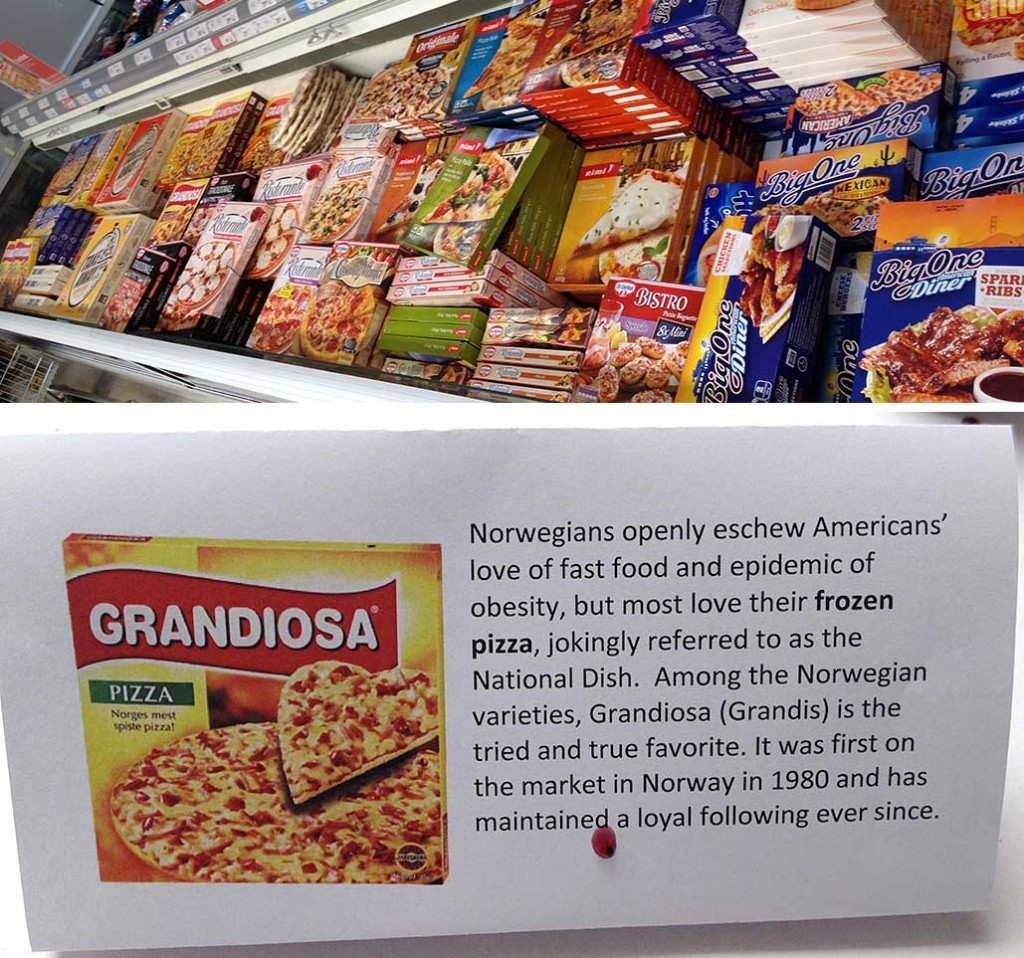 We have already mentioned the popularity of hot dogs here, more commonly thought of as sausages and not carrying as many of the negative connotations that we have back home. They seem to be the staple of any child's birthday and are often the food of choice at events where an impromptu cafe is erected. Frozen pizza is another obsession. 25% of the frozen aisles of one of our local stores is filled with frozen pizza. We are a bit spoiled and haven't gone there yet, but will be sure to try the Grandiosa before we leave, said to be made from all Norwegian ingredients.
So that covers our initial introduction into Norwegian food culture. Fast forward to this week and I was invited to a luncheon being hosted for international researchers at the University of Oslo to learn about Norwegian food traditions at Christmas. My colleague Marissa, another  visiting researcher who is an Italian by way of Sweden, and I were able to partake in this event.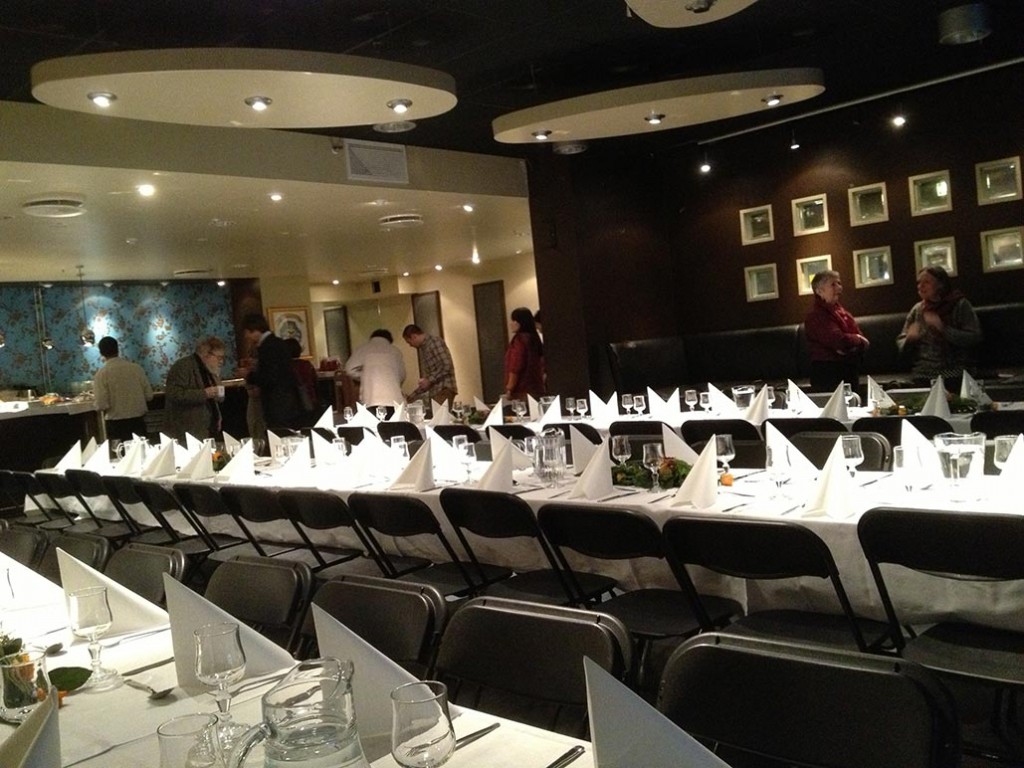 We were first all given a mugful of Gløgg. A warm mulled wine that is often served with almonds and raisins (almonds in mine below). It was very sweet, spiced, and good.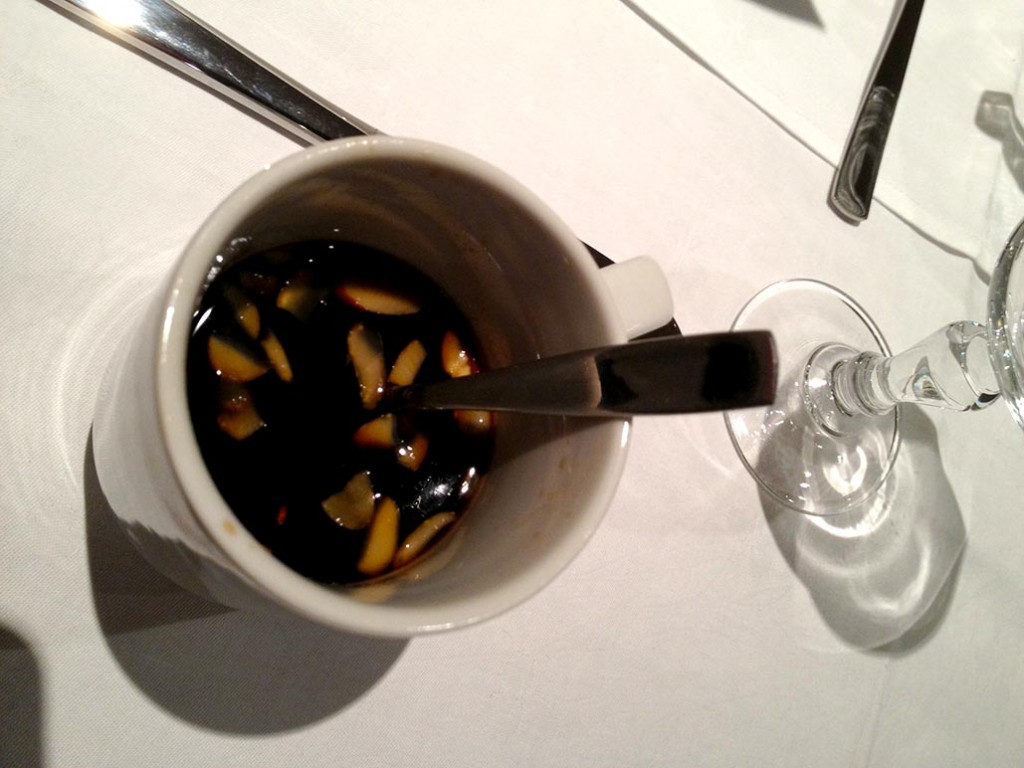 After this was a lecture by a professor who studies the food culture of Norway. The three facts that stood out the most for me included:
Norwegians are eating less fish and more meat these days in comparison to 10 and 20 years ago. Perhaps this is because they have become a wealthier nation and can afford to eat more meat.
That gas stations often make as much selling pølser or hot dogs than they do selling gas.
Wild mushrooms should only be picked with an expert as they are still affected by Chernobyll.
We were provided with a generous spread of both hot and cold staples you can expect to see at a traditional Norwegian Christmas meal.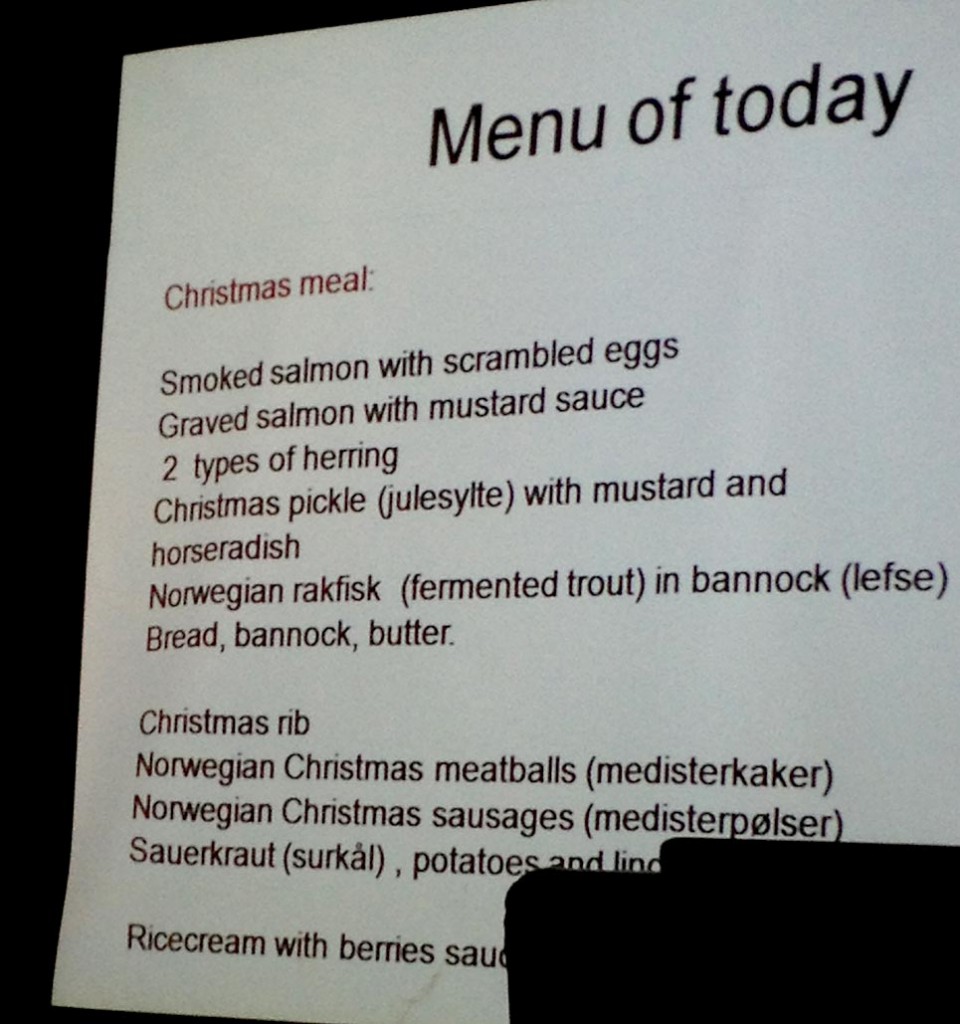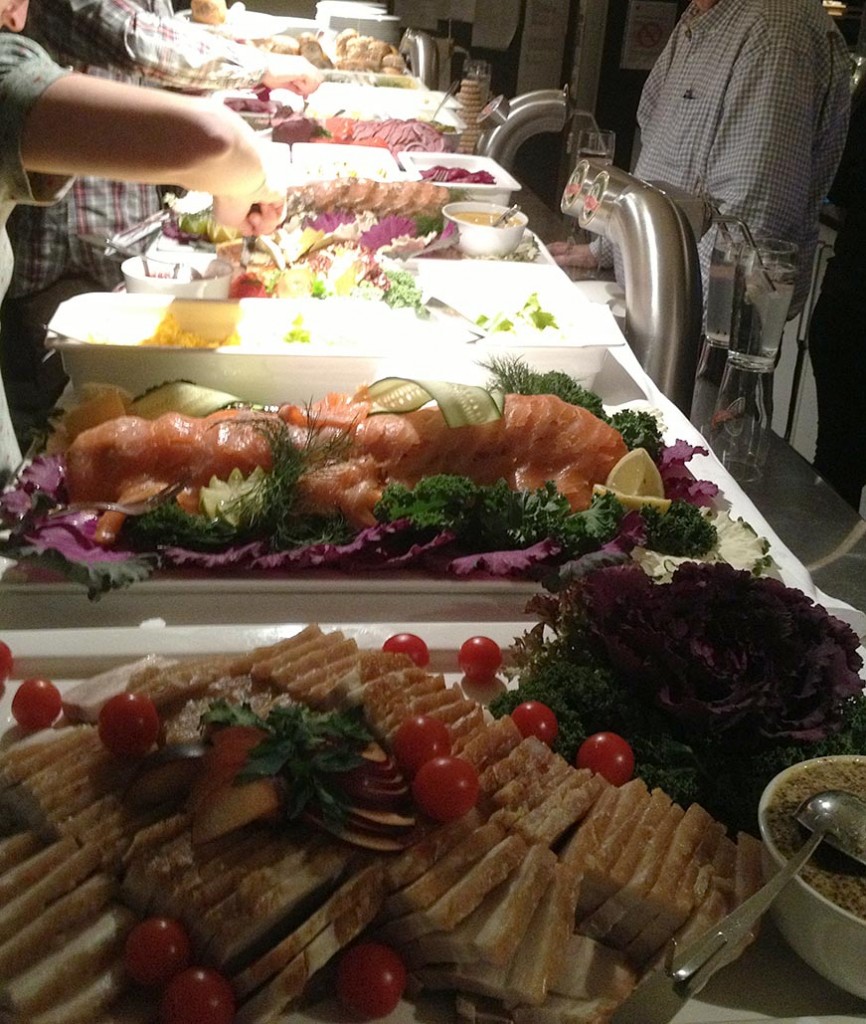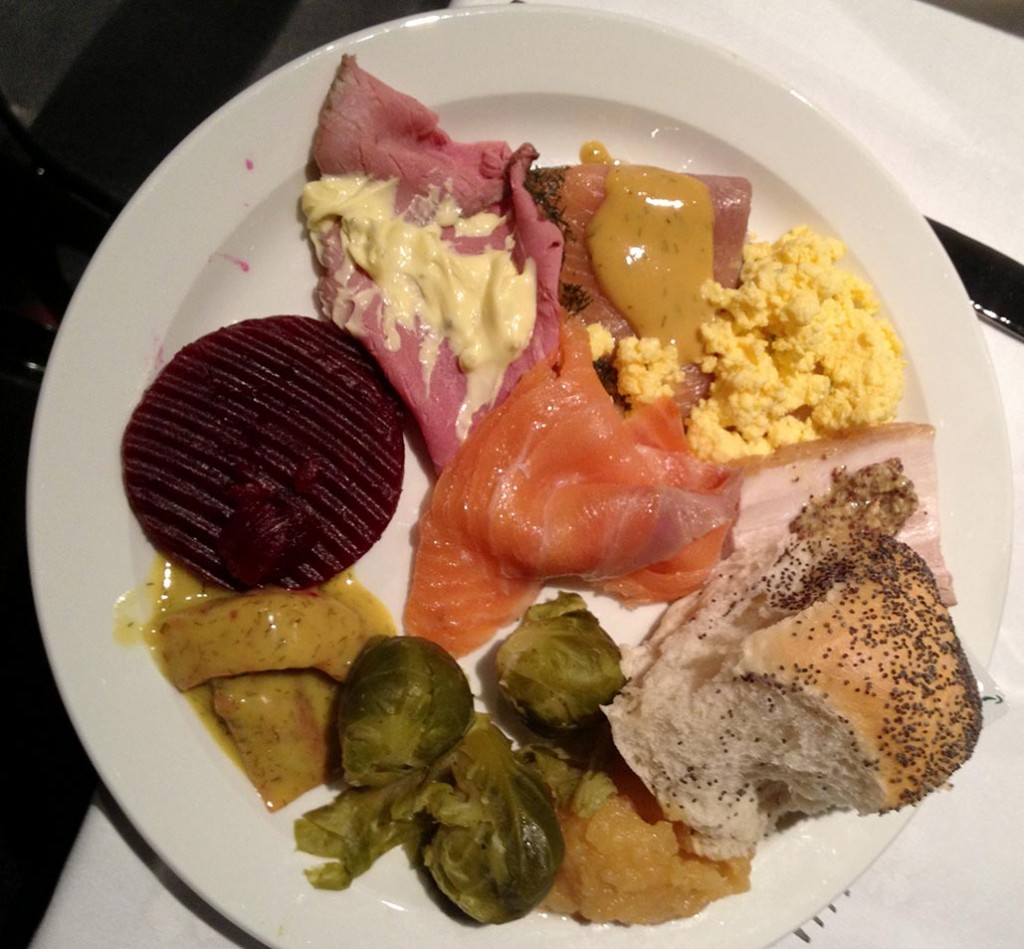 I was willing to try most everything and can say that I will pass on the Herring and Christmas Pork (which looked like a pork loaf) in the future. As far as desserts, Ricecream is a favorite at this time of year in addition to this beautiful sugared sculpture of goodness I took a quick picture of on our way out. We had to leave before dessert was served, but I plan to get to the bottom of this tower at a later date.