Sarah and I subscribe to a weekly listserv that aggregates the coming week's "American-centric" activities in and around Oslo. Sarah noticed there was a dance show that Leah and I might enjoy. She purchased a couple of tickets so Leah and I could attend a mid-afternoon program choreographed for pre-schoolers called Blue at Oslo's Dansens Hus.
The core theme of the Blue dealt with water in it's various forms and featured two dancers who employed simple yet effective props to convey rain, clouds, rivers, ocean, etc. A lone guitarist on a Fender Stratocaster provided accompaniment. His contribution was probably my favorite aspect of the performance. He made great use of his Strat's clean sound but would also inject slide, feedback and distortion to create great atmosphere for the production.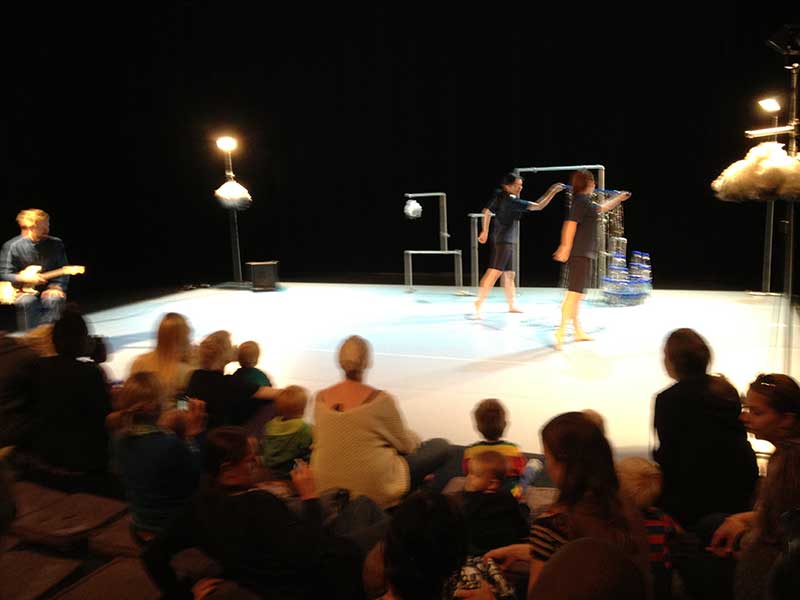 Leah seemed to enjoy it but after about 20 minutes she and some of the other kids began to get antsy. Whomever choreographed the show really knew their audience as it only lasted 30 minutes. The dancers met the kids as they left the studio and handed out "Blue" flags to each child. Leah has since been putting on her own dance routines, prancing and waving the flag all around the apartment, pausing periodically to take over-emphatic bows and solicit applause from whomever is watching.