It was just one week ago I was sporting mittens and a scarf to get around town. But yesterday and today are proving to be what we have been told is akin to a heat wave in July. Highs in the mid-70's. So we headed down to the water in an area known as Aker Brygge. The Astrup Fearnley Museum has a great park for lounging by the fjord and an area designed to wade into the water. The boys thought they were going to be full-on swimming and were prepared with goggles, however one toe dipped in quickly changed their minds. They eventually got numb enough to wade in up to their knees, but found more fun in exploring the tiny craggy rock pools and discovering all sorts of marine life.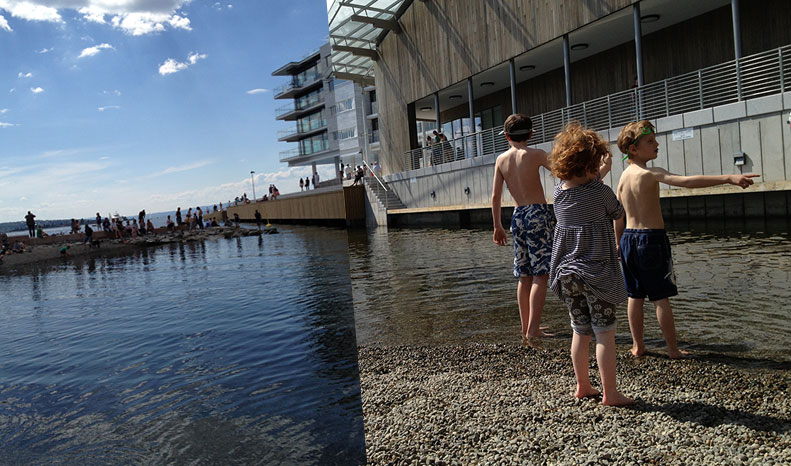 Once feet were cold enough and ice cream was procured, we walked along the harbor and spotted this ship sitting at the docks and had to go and investigate.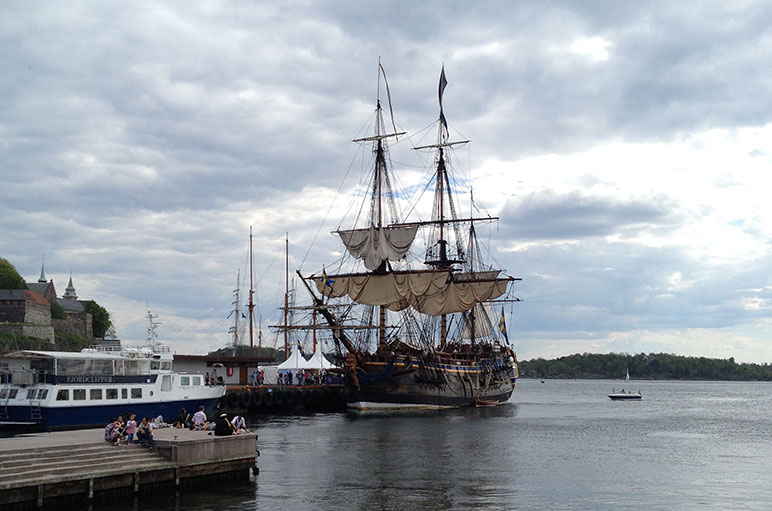 Seems we stumbled upon the Swedish Ship Götheborg, a reconstructed 1:1 replica of an 18th century sailing ship touted as the largest wooden sailing ship in the world. Lucky for us we found it on its last day docked in Oslo before it continues on its European Tour. If you are into old ships at all, check out their site, the story is quite fascinating.
The Swedish Ship Götheborg has been built according to traditional methods and with the same raw materials that were used in the 18th century. 1000 oak logs and 50 kilometers of pine have been turned into a 58.5 metre long and 11 metre wide East Indiaman ship. The nails, blocks, sails, cordage and ropes have all been made by hand. It took 100,000 man hours just to build the rig.

No drawings from the past were found, so the main keys to success had to be innovation, skill and persistent research. Modern equipment for safety, navigation, cooking, heating, and hygiene has been carefully disguised onboard to preserve the traditional feel.
We knew we had to check things out further when we walked up and saw these guys belting it out.
Facts and story about life onboard the ship really painted a picture of this vessel in its prime …