[This post covers the last day of our 3 day excursion to Bergen. Here are links to Day 1 and Day 2.]
The 3rd day of our trip marked our return to Oslo and to date stands as the most picturesque day we have spent in Norway. We booked tickets on a ferryboat out of Bergen that tours through the Sognefjord, Norway's longest and deepest fjord. The scenery did not disappoint.
As you can see in the photos we were very blessed with an absolutely gorgeous day, something that can be hard to find in an area of the country where rain is the dominant weather feature. The lack of any humidity here makes everything quite sharp and the air crisp. We did not get onboard early enough to camp out at one of the table seats that has 6 seats around it and fall all along the windows. But the boat was only about half full and once moving we were able to find seats near the window, and the indoor play area. The boat too had an area for the kids to play (Norwegians know how to design travel for kids). The TV was not working but that didn't stop Leah from spending the majority of her trip there. Considering there were no other kids on board, she had it to herself. Ethan found a seat by the window and didn't move. To date that is still his favorite reading spot since we have been in Norway. And Reid bounced back and forth from a seat to the play area. Sarah and I took turns going outside to capture the view. We spent a good portion of time on the back of the boat and eventually clued in that you could stand up front too. There was a very limited standing area there, but it provided for some amazing views as we headed into the most beautiful areas of the fjord. The boat made several very quick stops at various towns during the 5 hour journey along the fjord before reaching its final destination at Flåm.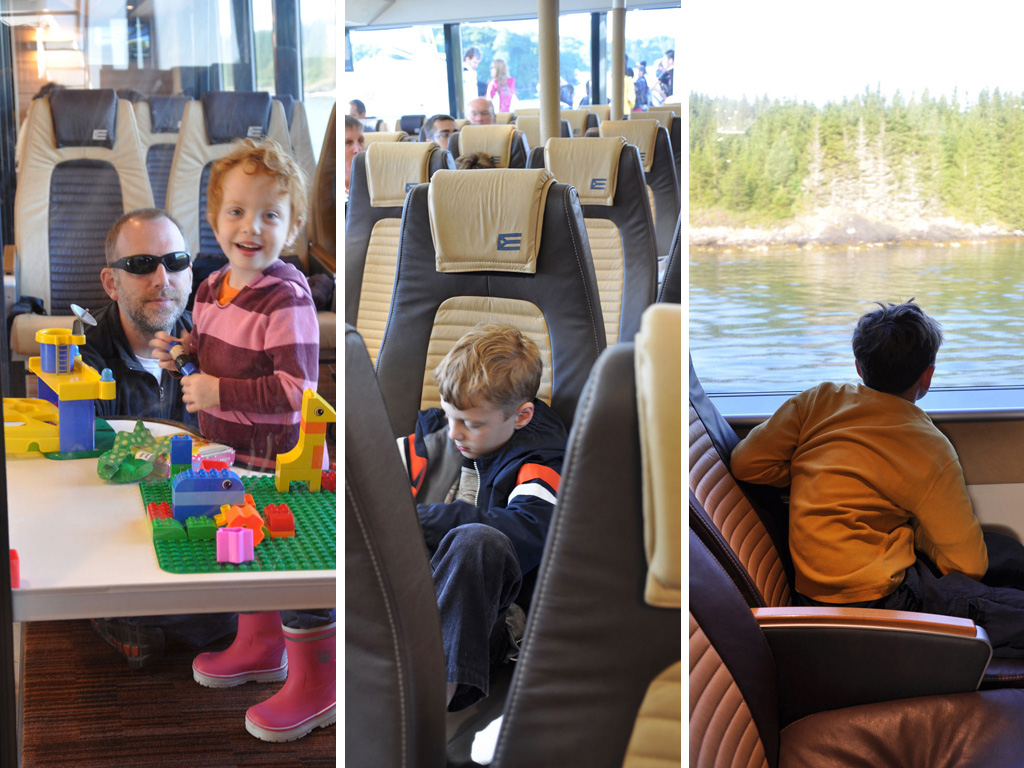 [vimeo https://vimeo.com/49368992 ]
Flåm is a very small town that primarily serves tourists. We were surprised to see a very large cruise ship docked here, allowing hundreds of tourists to take in the sights of the area. We had a couple of hours to kill until we needed to depart on the second leg of our journey back to Oslo so we wandered around a bit until we found a nice grassy park complete with a playground. We couldn't have asked for a better spot to lounge for a bit and take a slew of goofy photos.
For the next part of our trip we took a short ride on the
Flåmbana
, a popular, picturesque rail line that is one of the world's steepest lines on normal gauge tracks. Nearly 80 percent of the route is on a 55% gradient. The train winds its way up through a valley marked with dramatic waterfalls and mountain vistas.
At the point of the largest waterfall the train got the closest to, it stops for about 20 minutes. Everyone is allowed to disembark and take photos. We opted to stay on the train and wound up with a better view for the surprise performance. By now we had traveled a steep incline and seem to be in the middle of nowhere. We were left wondering how the women got up there and for how long, and where, did they have to sit all day for these dozen or so few minute performances they conduct a day.
[vimeo https://vimeo.com/49367486 ]
The Flåmbana route ends at the mountain station of Myrdal, where it meets up with the Bergen Line. Here we boarded a connecting train back to Oslo, retracing our initial train ride to Bergen on Day 1. We arrived in Oslo around 10pm. The boys were tired but dutifully shrugged off sleep in order to navigate from Oslo Central Station, onto a bus and then a short walk home. Thanks to the stroller, Leah slept, even on a bus filled to standing-room-only capacity. Sarah unfortunately took the heel of a woman's shoe to her pinky toe which likely fractured it to some degree. Thankfully after the weekend to rest, her "get up and go" attitude has prevailed and she hasn't missed a beat. Not the best way to end the trip. We were all thankful to be "home".