Seeing that we are on the eve of school starting tomorrow, and we've suffered enough of not having Leah take an afternoon nap, we opted to stick closer to home today and had our first visit to Frogner Park. And more notably, the Vigeland Sculpture Park that resides within this park. Some things we had heard about this park before we went:
it was full of sculptures
kids can climb all over the sculptures
it is a great place for a picnic
it can be described as 'erotic'
All true. I would add that along with erotic, there is every kind human condition and emotional spirit depicted. It is a place that leaves you with so many more questions than answers. Upon return, Kurt and I have been reading up, some of our findings:
it is the world's largest sculpture park made by a single artist (Gustav Vigeland)
it houses Norway's biggest collection of roses; a total of 14,000 plants of 150 different species
it is 80 acres
the monolith in the center (which stands 46 ft tall) took 3 carvers 14 years to complete, contains 121 figures, and was carved on site
The kids loved it. It housed the biggest playground that they have seen since they got here, they could run forever, and for once they could climb all over the statues. We didn't get a single question as to the subject of the statues. Photos don't quite do justice to the space or the sculptures, but here goes …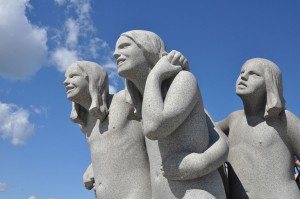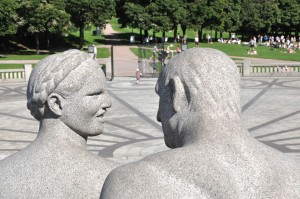 Due to a three-year-old meltdown at the very end we were not able to get a photo of the famed crying baby sculpture (just for you Katherine!). But I'm pretty sure we will be back here again.
A good glimpse into some of the other statues, many that we didn't see, can be viewed on this page: The 23 Strangest Sculptures of Norway's Frogner Park. See if you don't want to know more …