We found what felt like the 'Cades Cove' of Oslo this past Sunday. Back home Cades Cove is an immensely popular area to visit in the Smoky Mountains. We made the comparison here due to the popularity of these two outdoor locations. The biggest difference about Sognsvann and Cades Cove, aside from the fact that Cades Cove is an historic settlement community and Sognsvann is a recreational lake, is that here people were actually out of their cars walking around — lots, and lots of them. Sognsvann is rather close to the city, requiring us to take a short bus ride to the subway, then following that line to the end. This close proximity to getting 'out'  is one of the most appealing parts of Oslo's location, as any point within the city is relatively close to a forested area.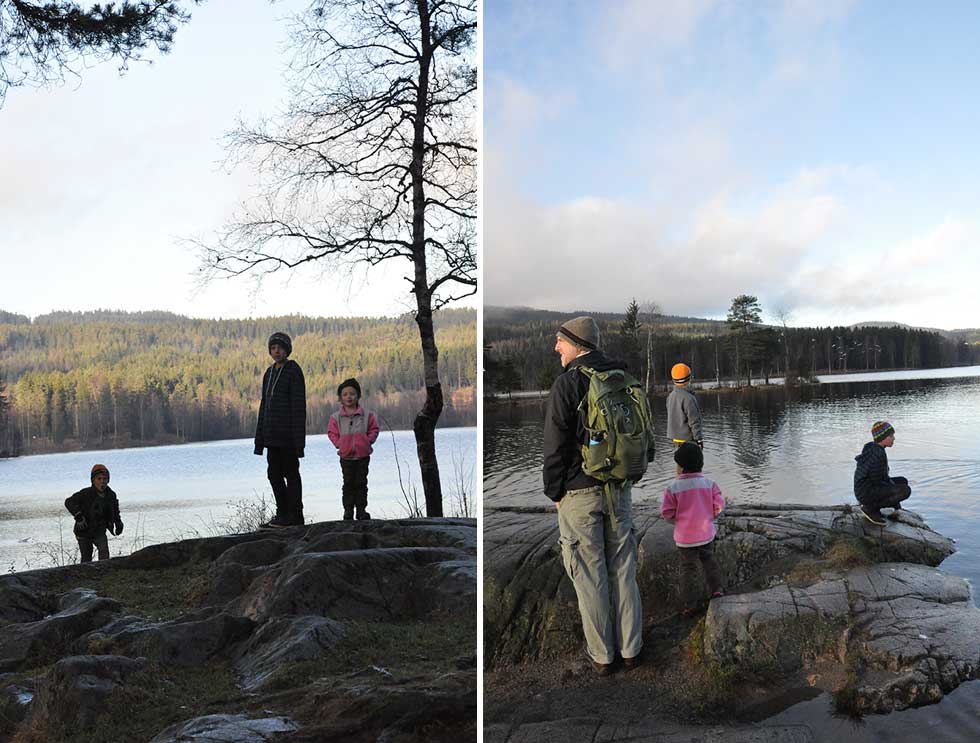 We started off with everyone in rather good spirits. The kids were all over the place, with Reid leading the way by stepping in a puddle to his ankle within the first 10 minutes of the hike. This was followed by hopping through a mud pit and having the mud suck one of his boots off, soaking his gloves in who knows what, and putting his dirty hand in the bowl of apples thus rendering them non-appetizing to the rest of the troops. It was all he could do by the end of the hike to remain upright. Ethan opted not to listen to our suggestions of warmer wear and about halfway through was frozen and rather miserable as well.
The youngest was by far the trooper and the most adventurous. At one point the walk was parallel to this beautiful deeply forested area. She pointed up to it and asked if we could go through the 'spooky forest'. So she and I split off from the grumpy boys for a while walking through this magical place speaking in hushed whispers so we wouldn't attract the evil elves (her story). The boys eventually realized our location and came up to join us, momentarily forgetting how miserable they were.  It was our favorite part of the whole walk. Especially since when we rejoined the footpath, we came to a point in which it was so crowded we could only seem to travel single file. Kurt and I now understand the stories people have told us about Norwegians hiking and pretending they are the only one on the path so as to better commune with nature.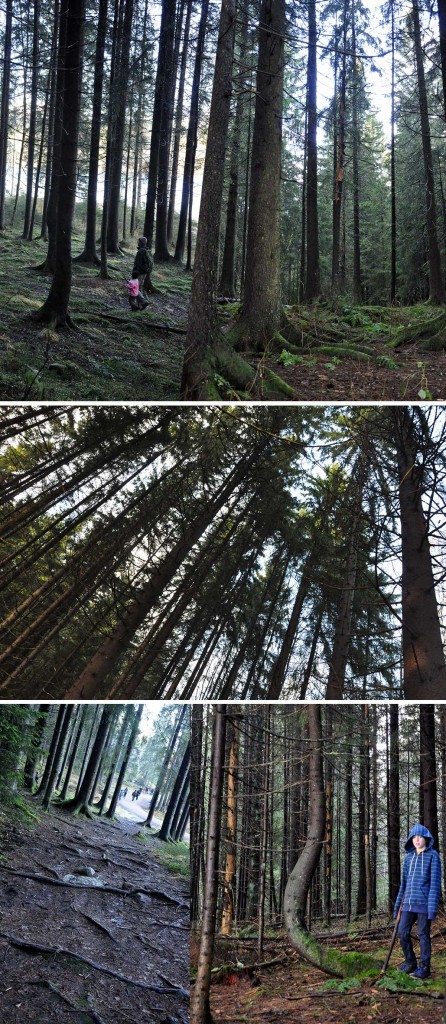 After the hike Reid made a list of all the things he wants to remember for next time ..
the courtyard in the apartment is warmer than the hiking areas (they use the courtyard as their thermometer to determine what to wear)
bring an extra pair of socks
wear my longjohns under my pants
wear my waterproof snow boots
wear my bigger coat that is water proof
take off my gloves when eating
try not to jump in a puddle first, save it for last
mud can take off your boots